Ignite your growth with

game changing insights
Read the room and pick up on cues during your online meetings. Spiky takes your revenue team to new heights with actionable insights and powerful correlations.
How does Spiky work?
The Spiky Platform makes everything easy. Ignite your revenue with a few simple steps. Let us do the heavy lifting so you can focus on your customers.
Video Calls
Spiky Scribe
CRM
Video Conferencing Tools
Calendar
Voice Calls
Collect data on the go
From your video conferencing tools, manual uploads, calendar, CRM, and new integrations being added each day. Stream your data from anywhere and combine them in one platform.
Create meaningful insights
Smart AI algorithms works behind the scenes to give you the correlations that you need to perform deep dives on your meetings. Utilize four verticals of data, non-verbal, vocal, language, and context. No other platforms comes close.
Understand the business & yourself
Embrace the uniqueness of your company, customers, and yourself. Use our personalized feedback to focus on increasing value for your stakeholders.
Transcript & Summary
Whether you have a team of 1 or 2000, our shared team inboxes keeps everyone on the same page and in the loop. Leverage automation to move fast, while always giving customers a human, helpful experience. Drill down into the relevant information at lightning pace.
Save your valuable time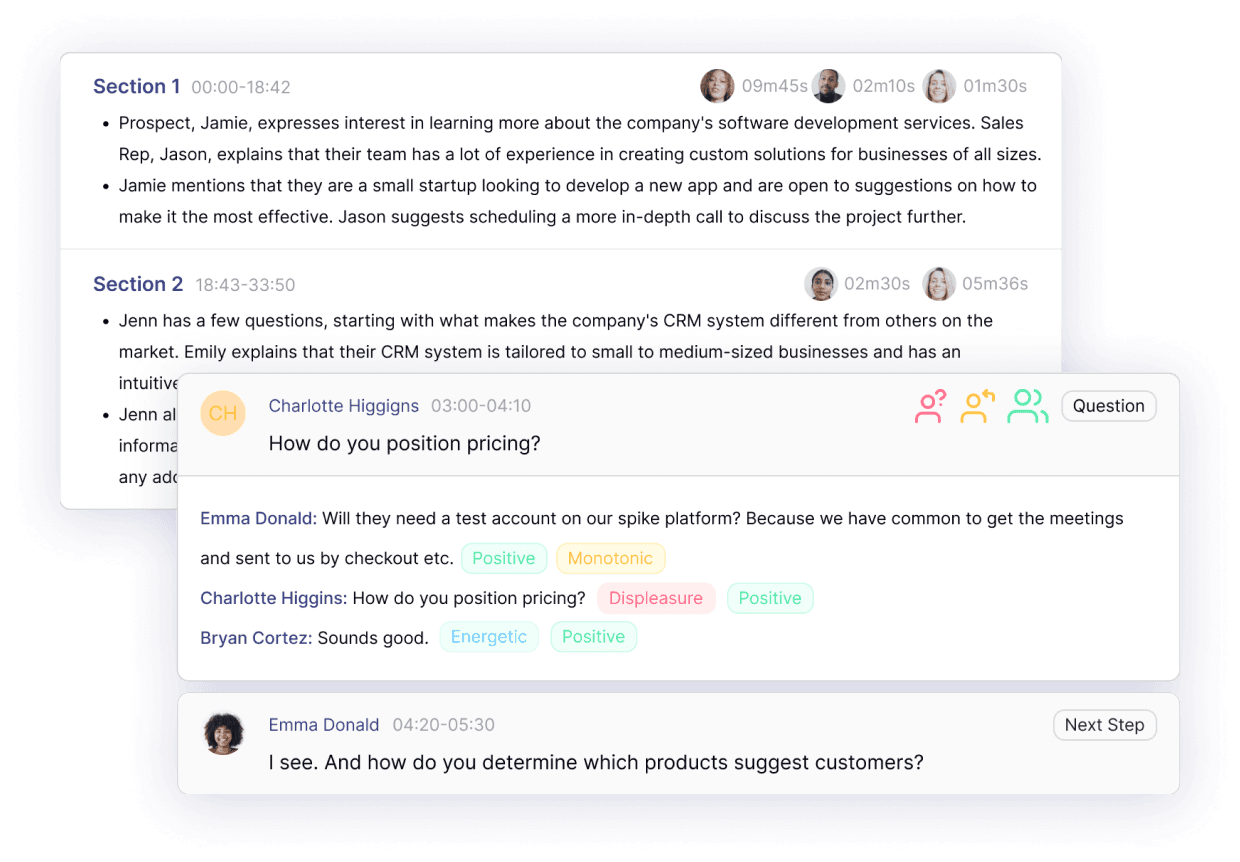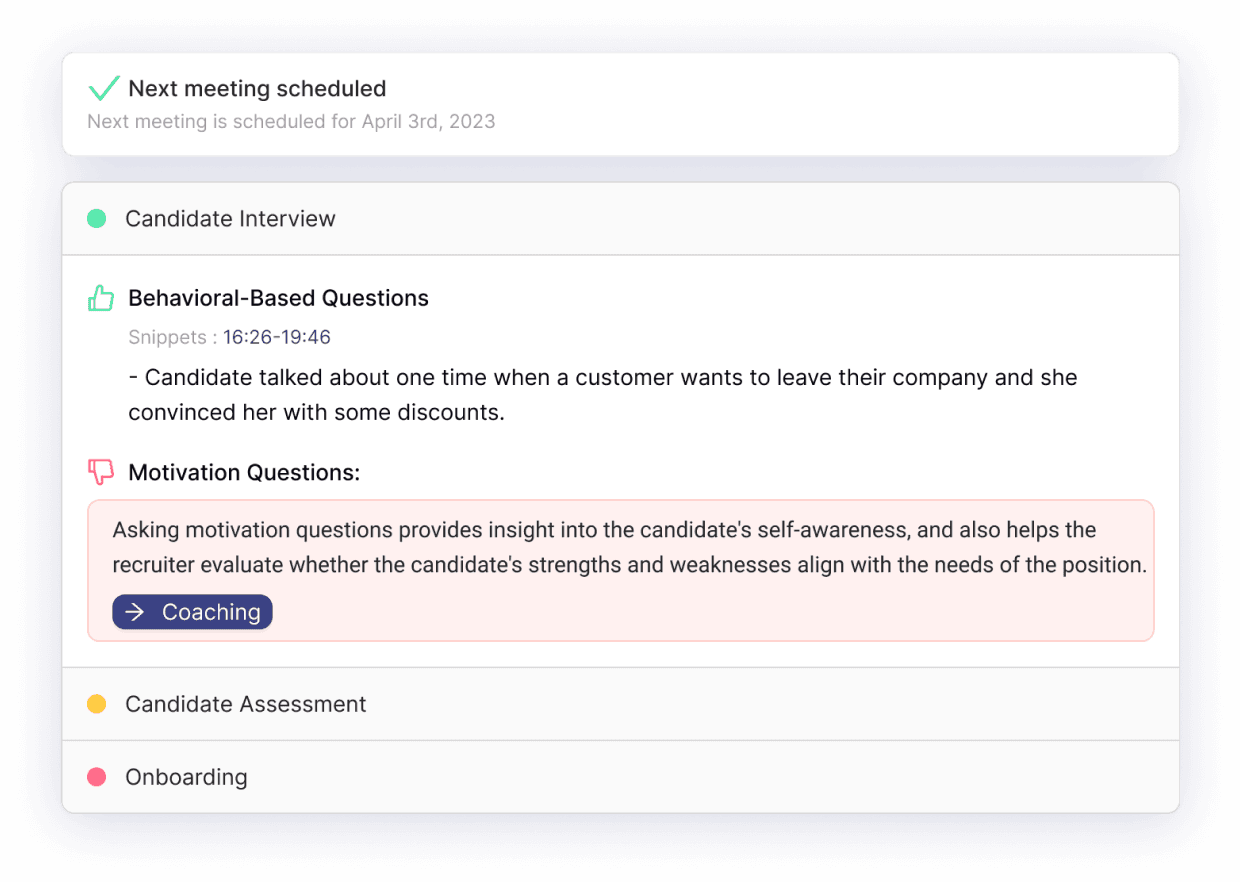 Feedback & Coaching
Forget manual reviews. Recognize the intrinsic value of individuality and embrace your strengths and areas of development with personalized feedback and coaching. By adopting a customer-centric approach, evaluate yourself through our lens. With this meticulous approach, unlock your full potential, enhance your professional growth, and take your career to new heights.
Automated personalized feedback
Company 360 Panel
Streamline your workflow with a unified platform that centralizes data inputs and actionable outputs. Easily review your personal and team status, get automated reports for meetings, replay crucial moments, and understand your conversational effectiveness. Achieve unparalleled success with our innovative platform.
Access everything from one place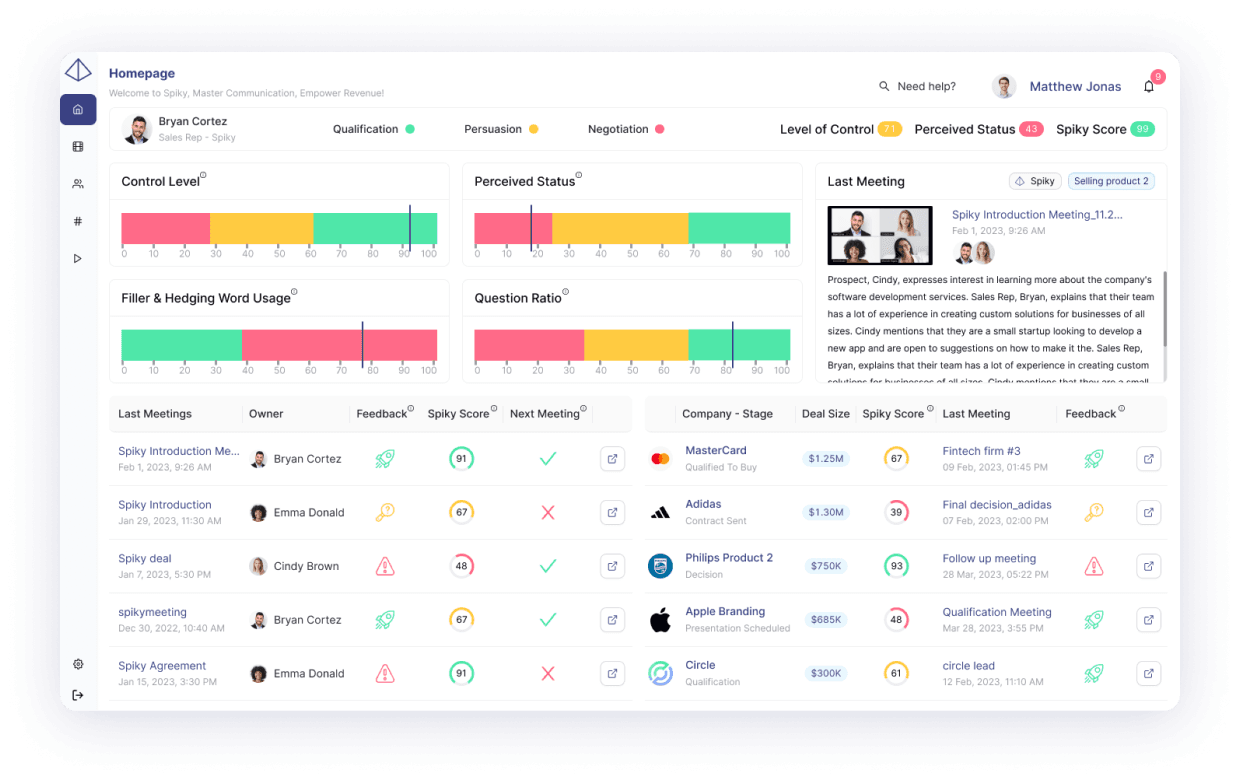 Deal Flow
Track your deals from a single source. View the essential highlights of each deal. Automate the CRM filling process and conduct detailed analysis on each deal, unlock critical insights and identify areas for improvement. Optimize your overall deal structure, elevating your performance to unprecedented heights.
Correlate overall flow
Moments
Access the other half of conversational intelligence. Optimize the meeting experience. Focus on the most critical sections, access moment summarization, and explore the reasons behind those pivotal minutes. Gain an unparalleled perspective by comparing key highlights within a timeline throughout the meeting, elevating your understanding and driving your success to new heights.
Lights speed with moments
Academy
Empower your sales reps with unparalleled access to learning opportunities. Spiky Academy is here to sharpen your focus and elevate your expertise in the suggested areas of improvement. Experience a wealth of invaluable resources from top-tier professionals, providing a diverse array of cutting-edge insights and proven best practices.
Spiky Academy
My favorite feature of the Spiky platform is the detailed transcription it provides. The ability to capture all communication during an online meeting allows me to focus on the interaction rather than taking notes. The sentiment analysis is constructive in determining critical moments in meetings.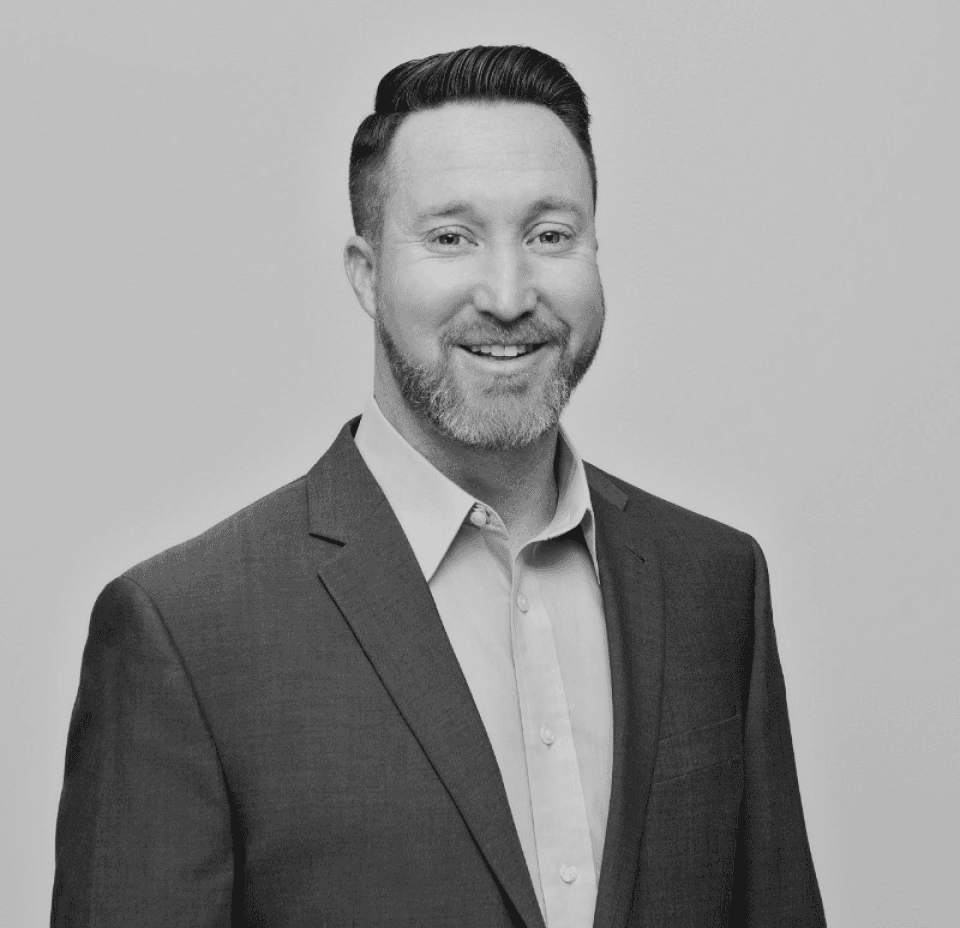 Jacob Cheatham
Chief Strategy Officer - Venom Strategies
Spiky makes it easy to coach the reps and ensure they correctly pitch our products. It is a valuable tool for improving our conversion rates throughout the funnel by more quickly qualifying leads. It has several handy features like a summary of the following steps and easy-to-understand analytics on performance.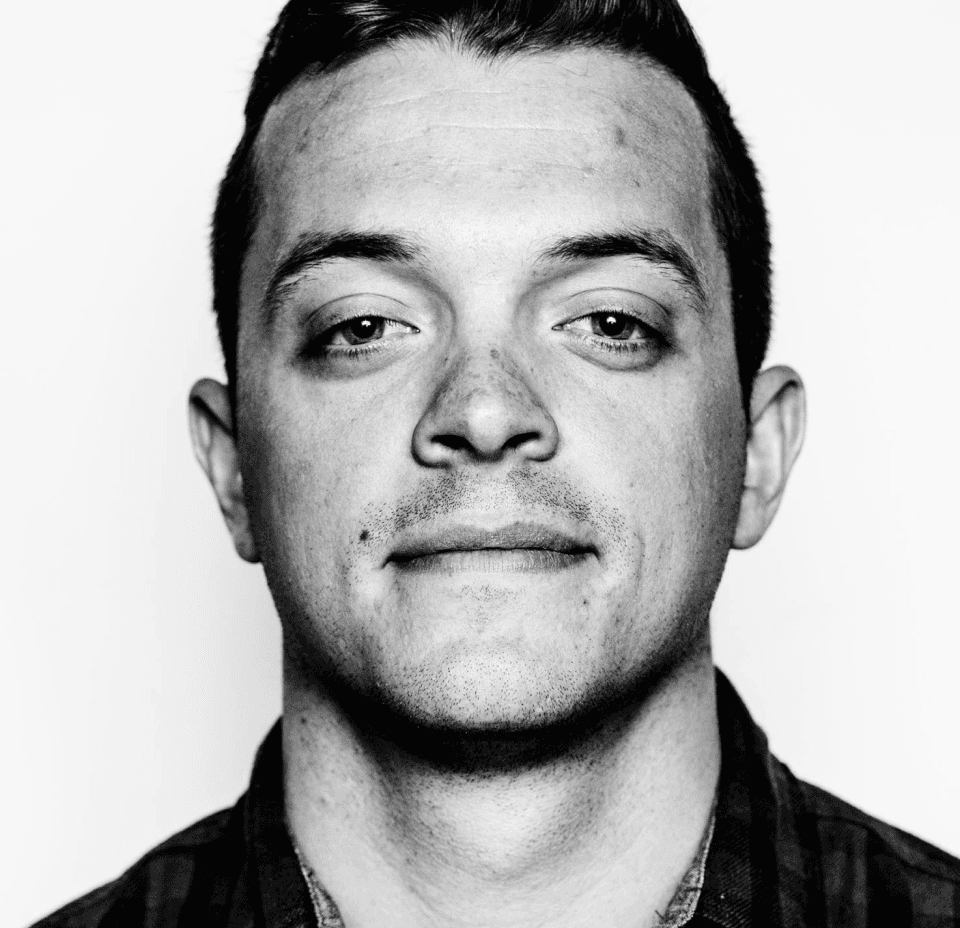 Drew Olsen
Head of GTM - Gynger.io
The insights provided by Spiky are game-changing for Salesforce. The insights delivered hold power to enable and empower sales executives to empathize more with their customers, thereby understanding their value proposition and needs more deeply. This will ultimately lead to more sales conversions if used correctly.

Teijas Ky
Head of Business Development and Strategic Partnership - Wakelet
Integrations
Integrations make your life easier! Start adapting the tools your team uses every day within secondswith minimal maintenance.
Connecting your daily tools will speed up your process by accessing the data instantly, prevent possible security vulnerabilities from manual work, access the deal flows, automate the filling process of CRM tools, and create correlations between each data.
See all integrations
Ready to get elevated?
Embark on your meeting optimization journey with Spiky today. Sign-up to empower your connections.
Try it for free