Discover the Spiky and Autom Mate Partnership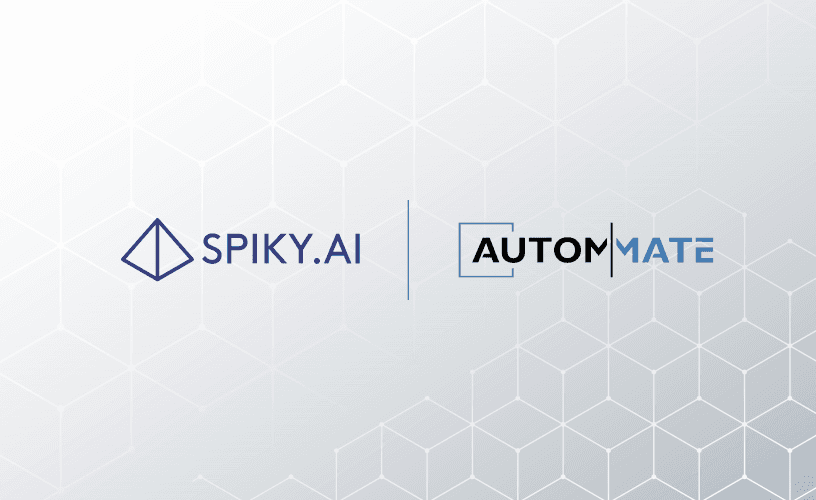 We have some electrifying news to share! Spiky is teaming up with Autom Mate, a powerhouse specializing in Enterprise Integration, Robotic Process Automation (RPA), Process Mining, and No-Code AI solutions. This collaboration will reshape the landscape of sales excellence and process optimization.
A closer look at Spiky's AI-driven technology
Meet Spiky, the revolutionary platform changing the game for sales professionals worldwide. With a powerful fusion of state-of-the-art AI technology, Spiky is transforming sales calls, onboarding sessions, and coaching meetings into invaluable opportunities for growth. Harnessing the prowess of AI, Spiky delves deep into your sales interactions, dissecting nuances and uncovering insights that propel revenue growth and enhance customer engagement.
Thanks to Spiky's automated insights, the manual labor that once burdened sales processes is now a thing of the past. Say hello to a refined sales pipeline and elevated customer interactions!
Redefining business efficiency through intelligent automation
Welcome to the forefront of automation innovation with Autom Mate, a true trailblazer in enterprise integration, RPA, process mining, and no-code AI solutions. But it doesn't stop there; Autom Mate is your gateway to harnessing the remarkable capabilities of AI and machine learning to elevate your workflows. With an intuitively designed drag-and-drop interface, seamlessly infuse AI models into your automation workflows, witnessing their precision as they expertly navigate intricate tasks. And that's not all! Autom Mate empowers you to run native cloud applications and integrations effortlessly. Embrace unparalleled flexibility and efficiency, building and automating without the complexity of intricate coding processes.
"Get ready to witness the convergence of brilliance! Spiky, the Al technology trailblazer, and Autom Mate, the automation maestro, have united their strengths. Brace yourself for a future where manual tasks are history and streamlined excellence is the norm.
With this partnership, we blend advanced AI prowess with cutting-edge automation for a future of optimization and growth. We are happy to share this pride with you." - Çağlayan Aydın, Founder & CEO, Autom Mate
With a holistic approach to reshaping business operations, they empower organizations to optimize workflows, boost efficiency, and drive innovation, all while requiring minimal lines of code.
A match made in tech heaven
"Partnership creation between Spiky and Autom Mate will create a groundbreaking development in sales analytics. We are so excited to increase the automation level for our users and help them increase their revenue both during and after their meetings. They will have more time to set live their actionable insights from the Spiky platform due to the automation of Autom Mate." - Derin Bilgin, Head of Marketing, Spiky.ai
Spiky and Autom Mate are like a perfectly orchestrated symphony. Imagine Spiky, our cutting-edge meeting analysis powerhouse, seamlessly channeling valuable insights into your daily tools. And now, picture Autom Mate stepping in to expertly automate integrations with your essential platforms, turning meeting action items into actionable steps across your workflow. The partnership will introduce simplified processes, optimized workflows, and elevated efficiency, all driven by the cutting-edge technology Spiky and Autommate bring to the table.
The road ahead
This collaboration is about more than just integrating software – it's about shaping the future of meeting analytics and automation.
Experience Spiky and Autom Mate firsthand today! And brace yourself for an upcoming joint solution, Spiky's AI-powered insights, with Autom Mate's automation expertise. The result? A new era of analytics and process optimization will redefine how businesses operate.
Join 2,000+ subscribers
Stay in the loop with everything you need to know.